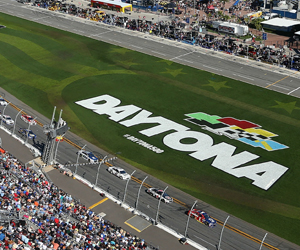 The 2020 NASCAR Cup Series waves the green flag for racing with the Daytona 500 this Sunday. The opening race of the schedule is also its most prestigious and offers a number of ways to bet on NASCAR odds, including who will win the Daytona 500. Here's a look at the Online Sportsbooks' frontrunner to take the checkered in the "Great American Race" this weekend.
Denny Hamlin 8/1
Hamlin won last year's Daytona 500 and could be the first back-to-back winner since Sterling Marlin in 1995. Hamlin is coming off a fourth-placed 2019 season in which he collected 5,027 points along with six wins and 19 Top 5s, making the final playoff cut. He's right at home at Daytona, where he has two wins in 28 career starts along with 442 laps led.
Hamlin ran the fifth-fastest time in qualifying which means he'll start up front for this week's Duels, which determine the starting order for the Daytona 500. However, Hamlin is more than comfortable running from the middle of the pack, with an average starting position of 16.4 in his career at Daytona.
Chase Elliott 9/1
Elliott is coming off a breakout 2019 season in which he finished 10th in the Cup Series standings, picking up three wins and 11 Top-5 performances. He hasn't won the Daytona 500 but has two Top-20 showings at Daytona International Speedway and is a super speedway specialist with success at tracks like Talladega.
Elliott finished third in qualifying and is usually one of the fastest cars on the track, winning back-to-back pole positions in 2017 and 2018. Starting up front hasn't exactly equalled checkered flags, however, with an average starting position of 7.5 but an average finish of 28th. He'll get to fit for a spot up front in the Duels this Thursday.
Brad Keselowski 10/1
The No. 2 car is coming off a solid 2019 in which Keselowski finished eighth in the Cup Series standings with three wins and 13 Top 5s. He's made 21 starts at Daytona International with one win, three Top-5 performances, and placed inside the Top 10 four times. Keselowski has owned an average starting position of 20.7 but hasn't bettered that with an average finish of 23.4.
Keselowski didn't have a great qualifying run, placed 23rd and will battle from the middle of the pack in the Daytona Duels on Thursday. He's also mired in a beef with teammate Joey Logano for what Keselowski calls careless driving during the Busch Clash race earlier this week. Logano sparked a wreck that damaged Keselowski's top car – one that looked very fast heading into the Daytona 500.
Joey Logano 10/1
And speaking of Logano, he's parked right next to his Penske teammate in the odds to win the Daytona 500. He won the 2015 Daytona 500 and has placed sixth, sixth, fourth and fourth in the four years since. In 22 starts at Daytona International Speedway, he's led 114 laps with an average finish just below 18th place.
Logano finished 11th in qualifying for the Daytona 500, putting him in a good spot for Thursday's 60-lap Duel, and is bringing plenty of momentum into 2020. The 2018 championship winner finished fifth overall in the Cup Series standings last year, just missing the cut for the Championship Four. Logano won two races and finished inside the Top 10 21 times in 2019 but didn't make any friends along the way.