Ever watch a spread jump points in a matter of minutes and wonder which experts were behind that line move? Tired of guessing which side the wise guys are betting and why? You can start wagering like the best sports handicappers in the industry by signing up at Sportshandicapper.com.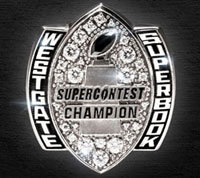 This is a unique information service, operated by one of the most respected minds in the industry with a proven track record. You get his first-hand take on today best betting opportunities as well as insight into some of the most notorious sports betting syndicates in the world. Separate yourself from the rest of the average handicappers and join now today.
Best NFL Handicapper
There are plenty of people who call themselves the best sports handicapper but do they have the accolades to back up those statements? Seal and his trusted handicappers do. In 2022 he won the Westgate Supercontest and became the best NFL handicapper in the country beating almost 2,000 other entries.  He has the money, the ring and the title of being the best.
A win percentage in the Westgate Supercontest of almost 70% left him as the best NFL Handicapper in the country. He and his team don't just talk the talk but actually have proven they are the best in the world. Invest in the service and start turning those past losses into wins. Ready to bury your bookie? It's easy. Join now by clicking here.