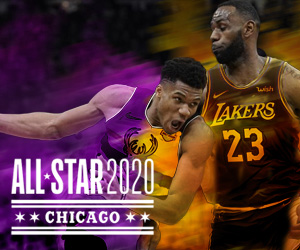 The NBA All-Star break is just around the corner, giving teams and players a chance to catch their breath and plan ahead for the home stretch of the season. Some teams are desperate for a break from basketball while others are trying to finish strong and ride momentum into All-Star Weekend and beyond.
We look at some sports betting picks to follow and fade before the break and how you should bet their NBA odds.
Fade: Portland Trail Blazers
The Blazers had a four-game winning streak come to a close Tuesday night in Denver but Portland has been one of the hottest teams of late, winning six of its last 10 outings but going just 5-5 ATS in that span.
Despite their success the Blazers haven't been able to meet the oddsmakers' spreads and the path ahead may be tough. Before the break, Portland faces San Antonio at home, Utah on the road, Miami at home, and New Orleans and Memphis – two bottom-tier teams playing good basketball – on the road.
Defense has been the big problem for Portland, giving up more than 121 points to opponents over its last six games. With the break in sight, the Trail Blazers could be gassed trying to keep up in a packed Western Conference and could get caught looking ahead to time off.
Follow: Brooklyn Nets
Kyrie Irving is once again sidelined with a injury, leaving the Nets without their marquee player. On the surface, this would seem like a dire situation before the break but Brooklyn has already proven successful without the All-Star point guard and the over-adjustment from the betting markets could offer added value to the Nets' nightly NBA pointspreads.
Brooklyn is going to catch a ton of points in its matchups before the break, with games against Golden State, Indiana, and the red-hot Toronto Raptors twice. The Nets may lack some scoring punch with Irving out of action but have been solid on defense, allowing less than 111 points per game over their last six games.
Fade: Toronto Raptors
Fade the hottest team in the Eastern Conference? Yes. Toronto has won 11 straight games heading into Wednesday, coming through for NBA pointspreads bettors in eight of those matchups. However, trouble is brewing for the defending NBA champs with president of operations Masai Ujiri being courted by the rival New York Knicks. Ujiri is very close to the players and is the architect of Toronto's championship roster.
On top of that inner turmoil, the spreads for the Raptors could be a daunting task for NBA bettors before the break. The hype around the winning streak is already bloating the betting numbers and Toronto will be a big favorite in matchups against Indiana twice, Brooklyn twice, and Minnesota. The Raptors are a solid 22-13 ATS as the chalk this season but a tipping point is coming before the break.