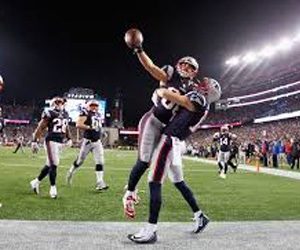 The NFL playoffs are down to only eight teams playing four games for the Divisional Round Saturday and Sunday. If that limited schedule is a drastic change in pace for your gambling action, why not look beyond the sides and totals and wager on these NFL playoff prop.
Here are some valuable prop bets and 
sports betting odds
 to spread action all four Division Round matchups this weekend:
Team to score first: Titans (+190) or Patriots (-235)?
New England head coach Bill Belichick has been known to defer the opening kickoff should his team win the coin toss, so there could be value with the Titans in this prop if they can get the ball and score on their opening drive.
Tennessee's offense has been terribly inconsistent this season, averaging just 3.1 points in the opening quarter. The Titans have opened scoring in eight of their 17 games overall but just once in their last four outings, including falling behind to the Chiefs in last week's comeback Wild Card win.
New England, on the other hand, puts up 5.8 points in the opening 15 minutes and has been the first to the scoreboard in all but three of its 16 games this season. That said, two of those games in which Brady & Co. was beat to the punch came in the last four games of the regular season.
Longest touchdown: Falcons at Eagles Over/Under 38.5 yards
Even if Carson Wentz was healthy for the Philadelphia Eagles, the Under might still be the play for this prop in the Divisional Round. Philadelphia runs a very conservative attack, averaging 5.5 yards per play on the season and just 4.1 yards per game in the three games with Nick Foles under center.
On the year, the Eagles only had 43 passing plays of 20 yards or more and just nine of 40-plus, and you shouldn't expect them to come out chucking with the stakes this high and a backup at quarterback. They face a Falcons stop unit that has allowed only 43 pass plays of 20 or more yards and just four for 40 or greater.
Atlanta's offense is a far cry from last year's attack, which would easily crush this total number on longest touchdown. The Falcons posted 55 passing plays of 20 or more yards with nine passes going for 40 or more. That's a drop off from 2016, when the Falcons had 69 pass plays of 20-plus and 17 for 40-plus. The Eagles were very stingy when it came to big plays, limiting foes to 40 passes of 20-plus and 10 passes for 40 or more yards.
Will there be a defensive/special teams TD?: Jaguars at Steelers
This prop could put total bettors in a bit of a pickle. With the Over/Under at 41 points, a defensive score or special teams touchdown could push this final tally past the total, so if you're going with "Yes" on this one you might as well toss money on the Over.
The Jaguars have one of the most disruptive defenses in the land, recording 55 sacks on the season – one behind Pittsburgh with 56. Given that these two teams love to get after the quarterback, a lot of chaos could come out of Sunday's Divisional Round matchup.
Jacksonville scored five touchdowns on defense this season – two from interceptions and five from fumble recoveries – and had five interceptions (and those two INT touchdowns) in a 30-9 victory over Pittsburgh in Week 5.
On special teams, the Steelers have a very dangerous weapon in returner JuJu Smith-Schuster and can always slide Antonio Brown into the special teams mix as well. Smith-Schuster averaged 26.7 yards per kickoff return and has a return TD to his resume this season. The Jaguars have a weapon on punt returns in Jaydon Mickens, who picked up 10.3 yards per punt return and a touchdown.