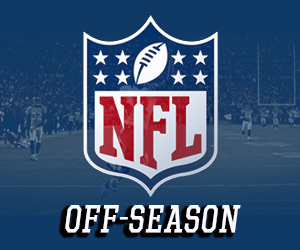 The NFL is the reigning heavyweight champ of the sports betting universe, which is evidenced by a busy offseason packed with big-name deals ruling the headlines.
Even in the throws of March Madness, the National Football League was turning heads and moving the odds for Super Bowl LIII. And we haven't even reached the draft yet.
Here's a look at some sports betting tips for the NFL futures this offseason.
Los Angeles Rams (+1,200)
The Rams were a live long shot to win the Super Bowl before making waves this winter, and now sit at +1,200 – the fourth overall favorite in the entire league. Los Angeles beefed up its defense with the additions of Marcus Peters, Aqib Talib, Sam Shields, and Ndamukong Suh. That should bolster an already solid passing defense that gave up only 217.2 yards per contests in 2017.
On the other side of the ball, an offense that finished first in points per game, is rumored to be going after disgruntled Giants receiver Odell Beckham Jr. in a possible trade with New York. Should that happen, L.A.'s Super Bowl odds would take a significant jump. Quarterback Jared Goff played like a No. 1 overall pick and running back Todd Gurley saw new life in Sean McVay's offense.
Another reason the Rams are priced so high is the state of the NFC West. Seattle and Arizona are in rebuild modes and while San Francisco looked great at the end of last season, the Niners still have a lot of work to do to complete for the division crown. This is Los Angeles' division to lose.
Minnesota Vikings (+1,200)
Many in Minnesota questioned the team's decision to throw the bank at quarterback Kirk Cousins when Case Keenum was serviceable as the Vikings' QB in 2017. But with Minnesota on the cusp of a Super Bowl appearance, the addition of Cousins gives the team a solid offense to complement one of the top defenses in the NFL.
Cousins' numbers speak for themselves and he produced despite of his situation in Washington. The Vikings could round out the offense with some draft picks at skill positions as well as some savvy signings. The Vikings just added WR Kendell Wright, who led Chicago in receiving last year.
The defense also got a boost from the addition of defensive tackle Sheldon Richardson, who had a bit of a down season during his one year in Seattle. Richardson was a game changer during his time with the Jets, especially against the run, and should benefit from playing in Mike Zimmer's defense.
Cleveland Browns (+10,000)
OK, let's get this straight: the Browns aren't winning the Super Bowl in 2018-19. But, with the amount of quality additions and a surplus of draft picks, it's safe to say Cleveland should at least win a game next season. After going 0-16 last year, the Browns front office didn't sit idle.
They dealt for WR Jarvis Landry and QB Tyrod Taylor, and are expected to go with USC quarterback Sam Darnold for their first overall pick in the upcoming draft. Cleveland also signed veteran RB Carlos Hyde, who's been a steady producer during this career in San Francisco. On top of a few key pieces also signed during the offseason, the Browns are in pretty good shape and there's nowhere to go but up after a winless 2017 season.
Early season win total odds project an Over/Under of 4.5 wins for Cleveland. That number could be a bit inflated due to all these moves and possible prospects. Even a record of 2-14 or 3-13 is a massive improvement for the Browns, so bettors shouldn't shy away from going Under that season win total.