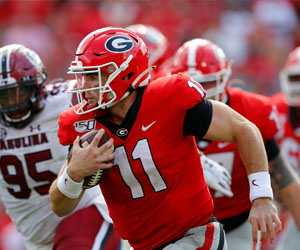 Rivalry week is a grand finale to the college football season and those heated games can have a huge say in how the College Football Playoff shakes down. With marquee matchups up and down the college football odds board in Week 14, here are the latest Sports Betting Odds to win the National Championship.
Ohio State Buckeyes +180
The Buckeyes jump to the top of the CFP title futures board with a big win over Penn State in Week 13. Ohio State is one the most balanced teams in the land – if not the best – with an explosive offense led by quarterback Justin Fields and a shut-down defense headline by the return of projected No. 1 overall pick Chase Young, who had been suspended for two games prior to the win over PSU. The Buckeyes have "The Game" to deal with before playing in the Big Ten Championship, but should they survive Michigan, OSU is a lock to earn a playoff spot.
Clemson Tigers +225
The Tigers don't get the routine tests that Ohio State or the SEC school get, playing a softer slate of games in the ACC. But Clemson has made the most of that, blowing the doors off their conference rivals. The defending national champs own an average margin of victory of more than 32 points per game and while people may be paying attention to Ohio State, LSU and other CFP contenders, there's no denying the big-game experience Dabo Swinney's squad has heading toward the postseason.
LSU Tigers +300
The Tigers finally killed the boogeyman which was Alabama, three weeks ago, and have been set on cruise control ever since, dropping back a bit in the CFP futures. Louisiana State has taken care of Ole Miss and Arkansas handily, but isn't going to win any style points for those victories. The Tigers look to take a final win over Texas A&M before a showdown with Georgia in the SEC title game. Heisman favorite Joe Burrow has played incredible this season and the rushing game makes this offense very tough to plan for. Even if LSU loses in the SEC Championship, there's a good shot the Tigers still sneak into the Final Four.
Georgia Bulldogs +1,000
The Bulldogs will be out to spoil the Tigers CFP hopes in that SEC title game. Georgia would get a playoff nod if it can knock off LSU in two weeks, pushing it ahead of any Big 12, Pac-12 or fellow SEC schools. The Bulldogs, who's lone loss was to South Carolina in OT back in Week 6, is paced by third-best defense in yards allowed but could need some help on the offensive side of the ball, after failing to score more than 27 points in each of their last six games.