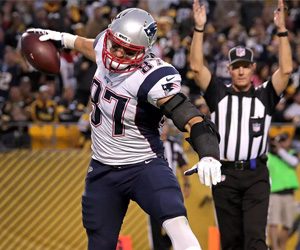 Next to Super Bowl Sunday, the NFL conference championships are the biggest betting day on the football calendar. And it seems every year, more and more sportsbook are offering Super Bowl-sized prop sheets on the AFC and NFC title games.
If you want to expand your wagering menu beyond sides and totals this Championship Sunday, here are some fun team and player props our sports handicappers have released for when the Jaguars meet the Patriots, and the Vikings take on the Eagles.
Total receiving yards Rob Gronkowski: 69.5 yards
You can't help but chuckle when it comes to the total for this prop. Gronk himself would smile and add a "nice" if he kept an eye on the betting odds. But once we're over the frat boy humor, there could be some serious value going against the Patriots stud tight end when New England matches up with the Jacksonville Jaguars' vaunted defense.
The Jaguars have done a very good job limiting opposing tight ends this season, allowing the third fewest yards to TEs in the AFC with just five touchdowns against. Jacksonville has such a strong defensive line that they don't need to blitz much and can easily focus on locking down tight ends like Gronkowski. Jacksonville also has some big physical players in the secondary and can drop safeties and even corners on Gronk without giving up too much size.
Pick: Under 69.5
Will Leonard Fournette score a TD?: Yes -105/No -115
Fournette was a wrecking ball in the Divisional Round win over Pittsburgh, rolling for 108 rushing yards and three touchdowns. He did, however, tweak his ankle in that game before returning to close out the victory. Fournette was also involved in a minor car accident this week and was unharmed.
The Patriots rush defense is among the worst in the NFL, giving up 4.7 rushing yards per attempt. But despite that, they've allowed only six rushing touchdowns – second lowest in the regular season – and locked Tennessee's potent ground game down to only 65 yards in the Divisional Round.
That success stopping the Titans run was mostly due to the Patriot piling up the points and forcing Tennessee to abandon the ground game. Jacksonville is a bit more committed to the run, calling rushing plays on 49.75 percent of its offensive snaps and finding the end zone on 67.86 percent of its red-zone trips.
Pick: Yes -105
Will both teams (Vikings/Eagles) make a FG of 33 yards or more?: Yes +110/No -130
With two of the best defenses in the NFL clashing in the NFC Championship, points will come at a premium.
The Vikings went 3-for-4 on field goals in the win over the Saints in the Divisional Round, with Kai Forbath recording successful kicks of 49 and 53 yards. The Eagles were a perfect 3-for-3 on field goal attempts in the victory over Atlanta, with kicker Jake Elliott booting FGs for 37 and 53 yards.
That said, Minnesota is among the worst teams in accuracy on field goal attempts, making only 87.2 percent of its tries. The Eagles are slightly better, with a 90.9 percent success rate on FG attempts but they are 13-for-14 on field goal attempts between 40-49 yards.
Philadelphia has some offensive questions with Nick Foles under center since losing MVP candidate Carson Wentz in Week 14. In his four full games as the staring quarterback, Philadelphia has gone 7-for-8 on field goal attempts with four of those topping 33 yards or more.
Minnesota attempted 38 field goals on the season – eighth most in the NFL. Forbath is 12-for-14 from 30-39 yards and 12-for-16 on field goal attempts of 40-plus yards.
Pick: Yes +110