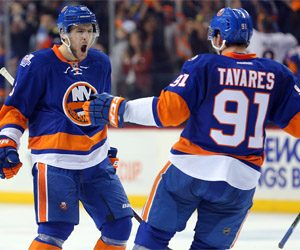 Scoring in the NHL is way up this season, with games averaging 5.9 goals a night. That's the highest scoring hockey season since 2006-07. This sudden surge in red lights has forced oddsmakers to up their Over/Under numbers for nightly NHL action, jumping from the standard totals of 5 and 5.5 goals to 6 and 6.5 for some matchups.
We take a look at a few teams setting the scoring pace – either through great offense or terrible defense – and some 
sports betting tips
 to cash-in for those NHL bettors banking on the Over.
New York Islanders (25-11 Over/Under)
The Islanders are the perfect Over team: scoring a lot and giving up a lot. New York finds the back of the net an average of 3.5 goals a game – second most in the NHL. The offense has been especially lethal on special teams, scoring on 21.7 percent of its power-play opportunities. John Tavares is still the heart of this attack but is getting some tremendous support from winger Josh Bailey, who has 49 points on the season.
On the other end of the ice, The Isles are giving up 3.5 goals against per game – worst in the NHL. The defense is allowing 33 shots on goal per night, which isn't helping netminder Jaroslav Halak, who lugs a GAA north of 3.00. The bulk of the Islanders' Overs have come at home, where N.Y. has topped the total in 14 of its 18 games. Bettors have seen consistent Over/Under numbers of six goals with this team, including a couple games ticking as high as 6.5.
Colorado Avalanche (22-13 Over/Under)
Much like the Islanders, the Avalanche have plenty of power on offense but can't keep opponents off the scoreboard. Colorado is seventh in scoring so far this season, recording 3.4 goals per game. That's a strange pace for this team, which averages only 29.6 shots an outing, making them one of the most efficient scoring attack in the NHL. Nathan MacKinnon has emerged as a top talent, posting 43 points in 37 games, and is one of four players with double figures in goals scored.
Defensively, the Avs have a long way to go. Colorado is giving up 3.2 goals an outing despite a steady penalty kill that has nullified almost 84 percent of their opponents' power plays. Unlike the Islanders, the Avalanche have been consistent Over winners regardless of venue, with 11 of their total toppers coming inside the Pepsi Center and 11 coming away from the Rockies.
Vancouver Canucks (22-16 Over/Under)
The Canucks are buried at the bottom of a very competitive Pacific Division, not giving much back in profits for moneyline backers. However, for those wagering on the Over in Vancouver games, they've enjoyed one of the best total toppers of the NHL season, including a 9-1 run for the Over heading into 2018. It's mainly been the terrible defense that has helped Over backers cash in, with the team giving up 3.2 goals per game.
Vancouver doesn't pack much of a punch offensively, netting just 2.7 goals a game – 27th in the NHL. But those numbers have seen an uptick in recent outings, with the Canucks averaging 3.6 goals over their last five contests heading into a January 2 home stand with the Ducks. Second-year winger Brock Boeser is one of the most exciting young goal scorers in the NHL and has fueled this recent scoring surge with four goals in those five games. If the Canucks can keep that pace, the Over money should continue to flow from Vancouver.
Other notable NHL Over bets:
Vegas Golden Knights (21-13 O/U)
Tampa Bay Lightning (22-15 O/U)
Dallas Stars (22-16 O/U)