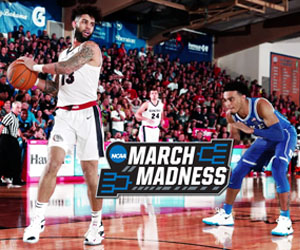 It was a wild week in college basketball with a number of top-ranked teams losing. The new Top 25 rankings will undoubtedly reflect those failures, but what about the NCAA Tournament futures?
Here are the latest Sports Betting Tips to win March Madness and a look at which teams are legit contenders and which ones are just riding by on their notable name.
Duke Blue Devils +700
Duke not only lost on the road to Clemson last week but then blew a chance for redemption and the inside track in the ACC with a loss to Louisville inside Cameron Indoor on Saturday. The Blue Devils offense started slow in both of those contests and couldn't dig themselves out of those holes.
Duke is talented and well coached – as always – but this spot atop the NCAA Tournament futures is more a reflection of sportsbooks liability and not the program's dominance. Even two losses couldn't budge them from the top of the board, offering much better value behind the Blue Devils.
Gonzaga Bulldogs +800
Can the Bulldogs finally get over the hump and win the national title? Gonzaga's season has played out like so many others: play a non-conference schedule packed with power programs than run through the WCC with ease en route to a No. 1 seed in the Big Dance.
The Zags are once again the class on offense in the country but their defense doesn't seem battled-tested enough to make a deep run come March. Injuries have also started mounting for Mark Few's team, testing their durability and depth – two things required for a Final Four appearance.
Kansas Jayhawks +800
Things aren't as cut and dry in the Big 12 for the Jayhawks anymore. Kansas has had to scratch and claw its way to conference titles in recent years and 2019-20 is no exception. But Kansas definitely has the makings of a title contender.
The Jayhawks can put up the points, averaging more than 76 points per game and ranking 11th in Kenpom's offensive efficiency. More importantly, however, KU is the top team in that defensive metric, which has been a telltale sign of Final Four teams over the past decade. At 8/1 odds to win the NCAA Tournament, you're paying extra for the Kansas name, but the Jayhawks are legit contenders.
Michigan State Spartans +1,000
The Spartans have had their issues since the start of the season, failing to meet the high expectations set forth heading into the season. The Big Ten has been especially tough this season, with home-court advantage worth its weight in gold, but MSU is built much like Kansas with some solid play on both sides of the ball.
Michigan State is scoring 78 points a night and sits seventh in adjusted offensive efficiency while ranking 27th in defensive efficiency on the Kenpom board. Tom Izzo will have this team ready to rock come conference tournament time and there is a ton of Big Dance experience on this roster following last year's Final Four run. The Spartans play three of their next four on the road and given how the Big Ten has shaken down this season, they could drop one or two of those games. Come back around on MSU after that stretch and see if its odds to win March Madness have increased.