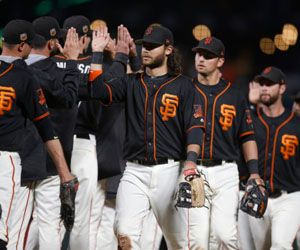 The Major Leagues have been dominated by pitchers in recent years. And even with home runs ticking up last season, baseball scoring is nowhere near what it once was – steroid-induced or not.
So far this MLB season, only eight clubs have played Over the total more than Under total, leaving 22 teams to either sit even with the Over/Under results or finish below the number more often than not.
Betting on the Over isn't as simple as just jumping on a high-scoring team. Online Sportsbooks boost the totals for those clubs, and tend to find the sweet spot around this point in the schedule.
So, finding totals value – specifically with the Over – is tough to do. It requires some digging into which teams could pick up their production at the plate as well as which ones are serving up big scores to their opponents.
Here are two low-scoring teams that keep cashing in for Over bettors this MLB season:
San Francisco Giants (37-33-3 Over/Under)
The Giants have been an Under bettor's wet dream in recent seasons, with a deep and talented staff of starters and a wet-noodle threat in the batter's box. For 2018, San Francisco still sucks on offense – plating just over four runs per game – but that vaunted group of hurlers is struggling bad. The Giants boast a collective 4.18 ERA, including 4.51 ERA from their starting pitchers.
Current injuries to big-name pitchers like Johnny Cueto and Jeff Samardzija have San Fran reaching deep into its reserves and returning ace Madison Bumgarner is still working his way back from a broken pinkie finger that held him out of action until June.
Offensively, the Giants have received a boost from playing at home, hitting .273 BA – third-best home batting average in the majors – and scoring five runs per game at AT&T Park. That's translated into a 18-11-2 Over/Under count when playing in front of the Bay Area faithful – a 62 percent Over money maker so far in 2018.
Miami Marlins (37-36-0 Over/Under)
The worst offensive team in baseball is among its best Over plays. Go figure. Immediately, blame is cast on the pitching staff, which is gushing nearly five runs per game to opponents and allowing foes to hit a collective .253 BA at the plate. If we want to get really specific, it's the bullpen blowing up that's the real cause for those Over winners. The relievers lug a 5.00 ERA and are allowing an average of two runs in the final four innings – sixth to the ninth – this season.
Things get worse when the Marlins hit the highway. On the road, the club surrenders an average of 5.65 runs to host teams – doing most of the heavy lifting when it comes to topping the total. That's why Over backers have celebrated a 21-17 Over/Under mark with Miami as the visitor this season.
So what have Derek Jeter's guys done to combat that piss-poor pitching? Not much. Miami is dead last in most major hitting statistical categories but is showing some fight on the road, helping push those final scores over the number. And things have looked better this month – a little brighter – with Miami hitting .240 and scoring five or more runs in four of its last eight while playing Over the total in five of those contests.