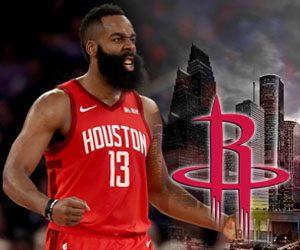 If we know one thing about the modern NBA, it's structured to produce as many points as possible. Scoring averages have soared in the past decade, with the 2018-19 season producing 222.4 points per game.
That's the highest average final score since the 1970-71 season and sits almost five points higher in offensive production than the previous campaign in 2017-18. That explosion in buckets is fueled by the expanding range of shooters and a massive uptick in 3-point shooting. On average, NBA teams attempted 32 shots from beyond the arc last season, making 11.4 of those – both averages are all-time league highs.
That means that if you're capping the NBA prop odds on which player will lead the league in scoring this upcoming season, you had better bet on someone with capable range from distance but also a shooter who has a perpetual green light.
Here's a look at Sports Handicappers' favorites to win the 2018-20 NBA scoring title:
James Harden, Houston Rockets +150
Harden won last year's scoring title, putting up 36.1 points per contest – an eight point gap between him and the second-place scorer. Houston's entertaining shootout guard hasn't seen a look he didn't like, and has been adding more unorthodox shots to his arsenal this offseason.
Harden will get his but could have his touches limited by the addition of former/new teammate Russell Westbrook, who was acquired in a trade with Oklahoma City this summer. Westbrook doesn't have the shooting range like Harden but will eat up plenty of offensive possessions, as he averaged 22.9 points on more than 20 field-goal attempts per game last year.
Stephen Curry, Golden State Warriors +250
Curry could be the best bet on the board, at least until Christmas when Klay Thompson is expected to return from knee surgery. The Warriors lost Kevin Durant to free agency and will be without "Splash Brother" Thompson to start the year, putting the bulk of scoring on Curry – especially when it comes to outside production.
Golden State did pick up guard D'Angelo Russell, who averaged 21.1 points per game with Brooklyn last season, but this has always been Curry's team and he is back as the focus of this offense for the first time in years. Curry took over 19 3-point shots per game in 2018-19, and we expect that to jump dramatically in the first few months of the schedule.
Giannis Antetokounmpo, Milwaukee Bucks +500
The "Greek Freak" is the main man in Milwaukee, coming off an NBA MVP campaign in which he produced 27.7 points per game – third most in the league. Antetokounmpo is extremely efficient with the basketball, shooting almost 58% from the field and getting to the foul line repeatedly.
While Giannis will still be the driving force behind the Bucks – on both ends of the floor – the team added some scoring support around the 6-foot-11 do-it-all forward. Wesley Matthews comes over from Indiana, rounding out the perimeter for Milwaukee and giving them a 3-point threat alongside Eric Bledsoe and Khris Middleton. The scoring load may not entirely rest on the tall shoulders of Antetokounmpo this season.