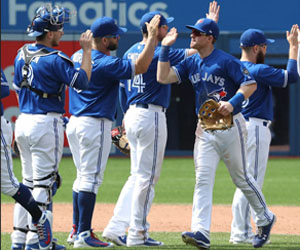 Now that the MLB schedule is headed down the home stretch, some major league clubs will be setting their sights on October baseball while others will be looking ahead to the winter months and the 2020 campaign.
Baseball bettors will want to know these motivations as we get closer to August and September. Here are a few teams to watch in the coming weeks, and how their plans could impact the MLB Sports Betting Odds:
FADE: Toronto Blue Jays
Perhaps the best thing the Blue Jays can say about 2019 is at least they're not the Orioles? Toronto is way back in the American League East race, and will likely turn the page to 2020 prematurely in the coming weeks. The Jays have already taken a peak at their future by eventually calling up slugger Vlad Guerrero Jr. from the minors and will kick the tires on more prospects as the summer winds down.
The Blue Jays have been sub-par at just about all aspects of the game and play 36 of their final 69 contests away from home, many of those games coming against the Yankees, Red Sox and Rays – all of which are vying for postseason positions.
PLAY: Washington Nationals
The Nationals looked lost at the start of the season, missing the big bat of Bryce Harper in the lineup. They stumbled to a 23-31 start in April and May but went 18-8 in June and own a 7-1 mark so far in July. That summer surge has Washington atop the Wild Card standings in the National League and chasing down the Atlanta Braves in the National League East.
Health concerns may creep up in the second half of the season but the National opted to rest voted All-Stars Max Scherzer and Anthony Rendon during the break, making sure their legs (and backs) were fresh for a second-half push. Washington could still use some help at the plate, so expect the Nats to bolster their lineup come the MLB trade deadline, in hopes of making a run at October.
PLAY: Cleveland Indians
The Indians were replaced by the Minnesota Twins atop the American League Central in the first half of the season, but don't expect the Tribe to be complacent with that. Cleveland has been one of the strongest second-half teams in baseball with a 94-48 record post All-Star break the past two seasons.
They're among the major-league elite in pitching, ranked sixth in collective ERA with the top bullpen in the bigs backing up the rotation. Those pitching numbers will improve when key arms getting healthy over the next two months. The Indians do fall short at the plate, where they're averaging only 4.46 runs per contest. Much like the Nationals – and many other MLB clubs – they'll be hunting for difference-making bats at the trade deadline.