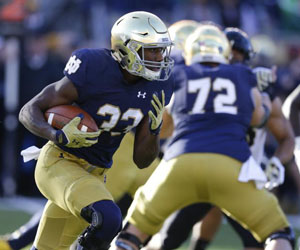 The College Football Playoffs and National Championship will be decided in the next week, but savvy football bettors are already starting to look ahead to 2018 and the potential sleeper contenders for next year's national title.
Here are a few teams and sports betting picks that could cash in big for bettors who jump on the upcoming 2018-19 CFP futures odds, which should be released in the next couple weeks:
Notre Dame Fighting Irish
The Irish return to glory could happen next season. Notre Dame will be coming off a very successful 2017, picking up nine wins and an appearance in the Citrus Bowl on New Year's Day. Quarterback Brandon Wimbush is expected back and will likely win the starting job with little competition coming down the pipe. But the big question is whether star running back Josh Adams will pass on the pros and return to South Bend. Should Adams stay, the Irish have one of deepest rushing attacks in college.
The schedule is loaded with top-tier competition and only Syracuse, Pittsburgh, Vanderbilt and Ball State – all upcoming in 2018 – failed to qualify for bowl games this year. With the playoff system putting so much importance on strength of schedule, and Notre Dame having such a passionate following, a one or even two-loss run could slide the Irish into the Final Four.
West Virginia Mountaineers
The Big 12 is always Oklahoma's league to lose, but WVU could be a team on the rise. The Mountaineers success will hinge on the health of quarterback Will Grier, who missed the home stretch of the season and bowl game due to injury. Grier is among the early Heisman contenders for 2018, and heads a potent offensive attack that can rival that of Oklahoma and Oklahoma State.
There is some added motivation for West Virginia in 2018, more so for head coach Dana Holgorsen, who is starting to feel the crunch after WVU gave a lifeless effort in the Heart of Dallas Bowl. Holgorsen has a slew of top offensive players returning for next season as well as some high-profile transfers available for action. The Big 12 is bidding farewell to many of its top talents, and that could open the door for WVU next season – especially now that the conference has a proper championship game. The Mountaineers must also claim non-conference wins over Tennessee and North Carolina State to separate from the pack next fall.
Michigan Wolverines
The Wolverines had a massive turnover in talent for the 2017 season, seeing many of Jim Harbaugh's top players and initial recruits jump to the pros. However, Michigan managed just fine with a roster of youngsters and five-star recruits. It boasted one of the better defenses in the country, allowing only 18.2 points on 268.6 yards per game – third fewest in the country. The offense left much to be desired, putting up only 26 points an outing, but there is a lot of promise ahead for this storied program.
Quarterback was a big issue for the Wolverines in 2017, with injuries and poor performances keeping a musical chair going under center, but they're hoping to have this position figured out by the time spring games roll around. On the ground, Michigan was strong with 186.3 yards per outing, sharing carries with Karan Higdon and Chris Evans, both of which should return for next season. The Wolverines have a daunting conference slate, with Ohio State, Michigan State, Penn State, and Wisconsin, and will have to win its one notable non-conference clash with Notre Dame to get serious consideration when the CFP selection committee comes calling.