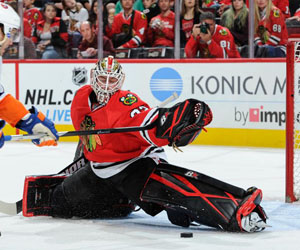 The summer sun is hanging in there in the final weeks of September, which makes hockey about the furthest thing from sports bettors' minds. However, the NHL preseason drops the puck on September 15 and the regular season gets underway on October 2.
If you're new to betting on the NHL odds or just want a refresher course on the best bets and wagering angles, here's a quick rundown of Sports Betting Tips to help you make some cold hard cash on the NHL ice this season:
Scout the schedule
Hockey teams, much like basketball teams, play three or four games in the run of a week. That means quick turnarounds between home and road games, letdown and lookahead spots, and home and away splits.
While the matchup and opponent should be your first stop on the way to handicapping the NHL odds, knowing how this game suits the teams is very important. Are they coming off a tough win against a quality opponent? Are they playing on shorter rest with a compressed schedule? How do they differ in performance at home compared to on the road?
Goaltenders
If starting pitchers are the most important position in all of sports betting, NHL goalies are No. 2. The quality of the play between the pipes is huge for those betting the NHL moneylines, pucklines, and totals.
A streaking goaltender can carry a so-so team on his back, giving added value to the moneyline odds and betting the Under. A slumping netminder is sometimes an automatic go-against and a value play for fans of the Over.
Not only should NHL bettors know the current form of both goalies but should also keep a close eye on the rotation, as teams will either split duties in the crease between two men or give their No. 1 goaltender every few games off to recharge the batteries.
Injuries
Since NHL betting is primarily done on moneyline odds, a players value is a bit tougher to quantify compared to say spread-based sports betting. Elite level talents could sway oddsmakers as much as 25 cents on the moneyline, but when the betting public catches wind of an elite absences, those moneyline odds could swing as much as 50 or 75 cents.
However, injuries to non-star players can have just as big an impact on the outcomes, especially when it comes to forwards and defensemen that play special teams first lines, like the power play and penalty kill. Taking those key members out of the lineup can drastically shift a coach's strategy and they way he rolls out lines, interrupting any cohesion and chemistry the players have together.
That could mean fewer goals for power plays struggling to make up for those injuries or more goals allowed with important stoppers sidelined when opponents have the man advantage.