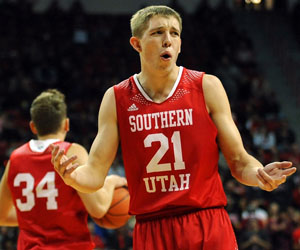 The first two months of the NCAA basketball season is an opportune time for hoops bettors to take advantage of weak lines. Oddsmakers aren't quite sure what to make of the national landscape and if you do your homework you can spot value across the board.
With the college basketball campaign chugging toward conference play – when sportsbook tend to catch up the savvy NCAAB bettors – these have been the most profitable plays against the spread of the sports betting odds on the college hardwood.
Portland State Vikings (9-3 SU, 9-0 ATS)
Portland State has been perfect in lined games this season, covering the spread in all nine of those matchups with odds. The Vikings' strategy is pretty clear: score more. They average 92.6 points per game – fourth most in the country – while giving up more 77 points against per night. Portland State hasn't shied away from elite competition either. Their three SU losses on the year came against Oregon, Duke, and Butler. However, they managed to make those power conference members sweat and covered the spread in all three outings. Portland State faces another big-time program in Cal this week, where it will be a live underdog on the road.
Southern Utah Thunderbirds (6-4 SU, 8-0 ATS)
Who knew one of the best basketball bets in college action would be hiding out in the Big Sky Conference? The Thunderbirds are also a "shoot first, play defense later" team, averaging almost 82 points per game while watching foes put up 83.4 against. Brigham Young transfer Jamal Aytes has been huge for this program, averaging 12 points and six rebounds, and has SUU playing well beyond expectations, as many media members had Southern Utah pegged as the last-place team in the Big Sky. The most impressive efforts from coach Todd Simon's kids were against basketball powers UNLV and Michigan State, covering as 23.5 and 32-point underdogs respectively.
Arizona State Sun Devils (10-0 SU, 9-1 ATS)
The Sun Devils' hot start to the season has their futures odds on the move in Las Vegas. Arizona State, led by head coach and Duke legend Bobby Hurley, caught the country's attention with an upset over Kansas at Allen Fieldhouse earlier in the month, but have really put an impressive string of victories together since late November, beating Kansas State, Xavier, and St. John's before taking down the Jayhawks. Arizona State is scoring more than 90 points per game, knocking down better than 51 percent of its looks. Now that the Sun Devils are on the national radar – currently ranked fourth – expect that ATS value to dry up before Pac-12 play begins.
Xavier Musketeers (10-1 SU, 9-2 ATS)
Despite losing and failing to cover against aforementioned Arizona State, the Musketeers are still among the most profitable plays to tip off the college hoops schedule. Xavier is very much cut from a similar cloth as the Sun Devils, scoring 88.4 points per night on 53 percent shooting from the field. The Musketeers most impressive victory is an 80-70 victory over Wisconsin inside the Kohl Center, which is one of the toughest venues to steal a win in across the entire country. Senior Trevon Bluiett is a bonafide star and future pro, saving Xavier from a potential upset against East Tennessee State this past weekend. It will be interesting to see how the Musketeers' ATS success holds up when the grueling Big East schedule takes hold in late December.