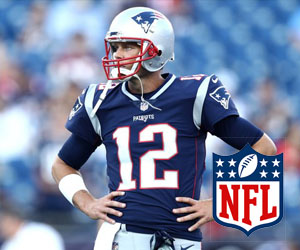 The summer exhibition schedule rolls on with Week 2 of the NFL preseason. Games are spread over three days – Thursday, Friday, Saturday, and a standalone on Monday – with some exciting betting angle to follow.
Here's a look at some of the best matchups on the board and how you should consider handicapping sports odds for Week 2:
Super Bowl rematch
The Eagles and Patriots mix it up for the first time since Philadelphia stunned New England in Super Bowl LII, with the Pats set as 3.5-point home favorites Friday night. Tom Brady is expected to start for the Patriots, as the team desperately needs to find chemistry for a crumbling receiving corps. Brady, who usually sits out exhibition action, has been nursing a sore back but told the media he's absolutely playing against the Eagles.
As for Philly, it will not rush Carson Wentz and his recovery from a knee injury late last season but will play backup extraordinaire Nick Foles in Week 2 of the preseason. Foles missed Week 1 with an upper-body injury and is projected to see the bulk of snaps in the opening quarter before giving way to three other reserve QBs.
Rare spread
The Green Bay Packers opened as 2.5-point home chalk for Week 2's preseason tilt with the Pittsburgh Steelers. However, after Pittsburgh receiver Antonio Brown suffered a hamstring injury and star quarterback Ben Roethlisberger took a shot to the head in practice – taking them out of action for Friday's game – the Cheeseheads grew to 5.5-point favorites.
This is a rare pointspread for preseason football, which usually keeps the line between pick'em and a field goal. Packers star passer Aaron Rodgers is expected to start at home, and could take extra reps before taking light work in Weeks 3 and 4 of the preseason. The total for this game has jumped from 37.5 to 42.5 points.
Tipping your hand
The Los Angeles Rams will travel to the Bay Area to play the Oakland Raiders on Monday Night Football in Week 1 of the regular season. But before that schedule opener, the Rams and Raiders will mix it up Friday night in L.A. for a Week 2 preseason contests. Los Angeles coach Sean McVay wasn't thrilled about seeing his Week 1 opponent on the exhibition calendar and may roll out a skeleton crew against the Raiders, as to not give away his game plans. He used his first team sparingly in the Week 1 preseason opener, leaving the Rams to get run over in a 33-7 loss to the Baltimore Ravens.
New (old) Oakland head coach Jon Gruden may do the same thing. Gruden is back on the sideline for the first time since 2008, so his playbook is a bit of a mystery to the rest of the league. That was an edge McVay and the Rams had last season, in his first year as L.A.'s head coach.
Monday quarterbacks
There's a bevy of quarterback talent for Monday's matchup between the Indianapolis Colts and Baltimore Ravens. Indianapolis is expected to give franchise QB Andrew Luck more snaps – and a deeper playbook – in his second game back from a shoulder surgery that cost him the entire 2017 campaign. Behind Luck is quality backup Jacoby Brissett, who started 15 games for the Colts last year. Indy's QBs combined for a modest 89 yards and two passing touchdowns in a 19-17 Week 1 preseason win over Seattle.
As for the Ravens, Joe Flacco, Robert Griffen III, and former Heisman winner Lamar Jackson have put up some great numbers in exhibition action so far. Baltimore posted 263 yards through the air with two touchdowns in a Week 1 win over Los Angeles. There's plenty of playmaking on this depth chart, which is why the total has gone from 37 to 40.5 points.