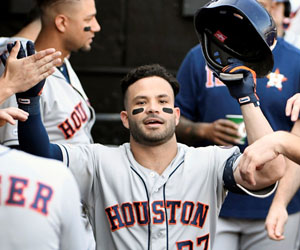 With the summer months comes heat and humidity, which always seems to spark offense around the major leagues. With this season on a record pace for runs and homers, the dog days of summer are injecting some clubs with additional power at the plate.
Since we're midway through August, here are the most potent scoring teams in the bigs this month and how you can cash in on their MLB sports betting picks and betting odds.
New York Yankees (7.4 runs per game)
No surprises here. The Bronx Bombers have lived up to their nickname all season, averaging almost six runs per game on the season. That production has peaked through 14 games in August, with the Yankees crushing the ball for 7.4 runs for per outing. The pop at the plate has been the biggest factor, with New York smashing 38 home runs already in August.
That scoring pace has the Yankees at 12-2 in that span but up against some lofty moneyline prices, which may be too high for most bettors to swallow. Instead, look to their Over/Under offerings which have produced a 9-5 O/U record this month.
Houston Astros (8.5 runs per game)
It would seem crazy that another club is out-powering the mighty Yankees but the Astros are putting up over one more extra run per game than New York. Houston, which averages 5.5 runs on the year, is hitting a collective .316 with 24 home runs in 11 games this month, heading into Wednesday's action.
Much like New York, the daily moneyline offerings are pretty expensive on the Astros, especially when you fold in the best pitching staff in the majors. Houston has gone just 5-6 Over/Under in those contests but has produced an average winning margin of victory of nearly six runs in August, which means plenty of overhead for those laying the -1.5 on the Stros runlines.
Toronto Blue Jays (6.0 runs per game)
The Jays put up a good chunk of their total 78 runs scored in August in Monday's 17-3 crushing of Texas, which has Toronto averaging six runs an outing this month – about a run and a half better than its season average. That said, the Blue Jays aren't bringing that power every night, so bettors should really mind the pitching matchups.
Toronto has only gone Over the total in four of its 13 games in August, but that extra production has helped the struggling club string victories together in recent outings. Heading into Wednesday, the Jays are 6-3 in their last nine games, coming through as moneyline underdogs in five of those wins. Seattle is scheduled to visit this weekend, which means a good potential for more profits from Toronto's young lineup, which is batting a collective .274 in August, compared to only .238 on the year.